Jessica & Peter
Hoping to Adopt
(New York)
Letter
Meet Peter and Jess
---
The selfless act you are offering in giving your child to a family that is so longing for one is the greatest gift anyone can give.
---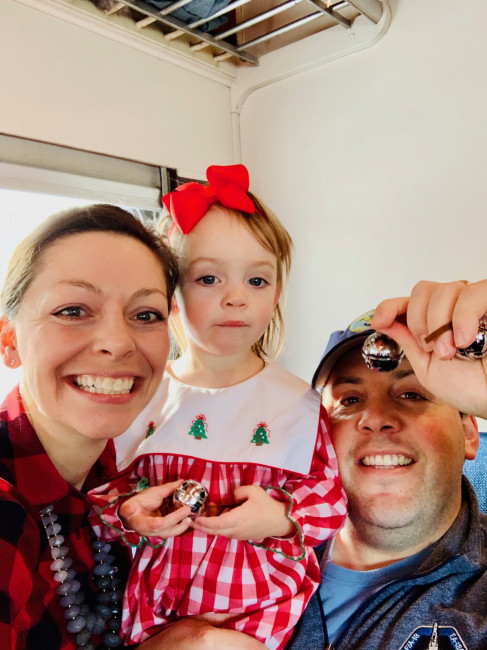 All Aboard the Polar Express!
Thank you for taking the time to get to know us, and for considering us to be your child's adoptive parents. We hope this will serve as the beginning of a beautiful and eternal connection with you. While we can't know what it's like to be in your shoes, we want you to know that we love and respect you for the journey that you are on and the decision that you are making. The selfless act you are offering in giving your child to a family that is so longing for the final piece of our family puzzle is greatest gift anyone can give. In entrusting us with this gift, we vow to honor it by providing your child with a loving, nurturing, safe, and supportive family. We know it's impossible to demonstrate to you here the abundance of love we have to give your child and how much we have to offer as parents, but we hope that this small window into our lives and who we are will spark a connection for you and you will consider blessing us with the miracle of calling your baby our child!
Our Story
---
Becoming parents is the best thing that ever happened to us.
---
Our wedding day!
Engagement Peter proposed to Jessica in 2007 on a beautiful October day in Jessica's hometown. While walking through the swirling fall leaves, hot chocolates in hand, Jessica embraced Peter and as she did so, Peter dropped down on one knee. He recited a quotation from one of Jessica's favorite books and asked for her hand in marriage. Marriage We got married in 2008 on Cape Cod, in Massachusetts, surrounded by friends and family. Our favorite part of the wedding was running through a tunnel of sparklers our guests held up to a boat that whisked us away to our Honeymoon suite while a band played our favorite song. Military We were an active duty military family for seven years. We were stationed in Florida and Italy. Through deployments, we strengthened our marriage by keeping strong lines of communication open and focusing on the positives. Our favorite part of being in the military was living overseas and traveling the world. Life after the military We returned to the United States in 2014 to be close to family, complete our graduate educations, and grow our careers. We love visiting friends and family across the United States and have enjoyed preparing our lives for children. The Birth of Our Daughter Gigi was born in early 2018 after 7 years of infertility treatment. She is the only biological child we could have. She is more wonderful and amazing than we could imagine! Becoming parents is the best thing that has ever happened to us. We have so much love and joy as a family, and want to expand this even further, completing our family with the missing piece of our puzzle, a new baby girl or boy. Gigi is so excited to become a big sister and asks daily when she will get to have a brother or sister to play with and love. Things We Love About One Another Peter About Jess Jessica is kind, loving, and has a great sense of humor. She is very generous with her time and energy and works hard to make everyone feel happy and safe. Jessica is the smartest, funniest, most caring person I know and I could not be happier to have her in my life. I first saw how Jess would be as a mother to our dog, Oliver - she has always made sure his cares and concerns are always lovingly attended to and that he has a healthy and active life to look forward to all the time. Jessica is a nurturing, loving, patient, devoted, warm, and fun mother. She ensures that Gigi's needs for love, care, development, learning, and fun are always lovingly attended to and met! She makes Gigi, Oli, and I feel like we are the most special people in the world, every day. She is the best Mom and wife, and I cannot wait to see her as the Mom to our new baby too! Jess About Peter Peter is kind, loving, and has a wonderful sense of humor--he's kept me smiling and laughing since the day I met him (over ten years ago)! Peter is selfless, caring, and devoted; he will do anything to help support, protect, nurture and care for those he loves. Peter is also enthusiastic about life and the hardest worker I have ever met; he gives 150% to everything he does. With Peter, I feel like no mountain is too high, no river too wide--every obstacle is surmountable and every dream reachable. One of the many things that made me fall deeply in love with Peter was seeing how nurturing, caring, and loving he was with his younger brothers and cousins (who are much younger than him). I saw what an amazing father Peter would be in these moments and knew that I wanted my children to have this amazing man as their dad. Peter has surpassed even my highest expectations as a father to our daughter. He is the kindest, most loving, nurturing, patient, ever-present father to Gigi. I cannot imagine our children could have a better father. I am so grateful to God every day that Gigi and our future child get to have him as a Daddy.
More About Us
---
We plan to foster the values of respect, dignity, social justice, and the value of all people in our children.
---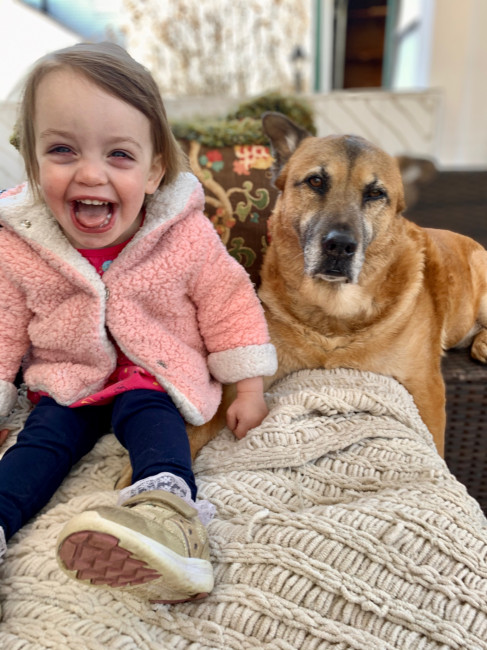 Best buds!
About Jess Jess is a couples and family therapist She's had years of training in child development and child psychology She has a PhD and is "Dr. Mom"! Fun Facts About Jess: Jessica loves succulent plants Jessica is an animal lover and has rescued, rehabilitated, and adopted-out 5 dogs with Peter's help Jessica is a certified U.S. Rowing coach and a rower Jessica has a very beautiful singing voice About Peter Peter was in the Navy for 7 years and deployed 5 times all over the world Peter earned his MBA after the Navy and works in Banking Fun Facts About Peter: Peter visited over 30 countries and 5 of 7 continents while he was in the Navy Peter's first job was working at a gas station Peter was on the sailing team at his college Peter is known among our friends for his talent in bringing people together About Gigi Gigi is our beautiful two-year old daughter. She is smart, sweet, and funny. Her favorite things to do include reading books, riding on her scooter, cooking at her play kitchen, playing with her dog brother Oli and making artwork. She has recently started asking for a brother or sister pretty regularly, and likes to go through the list of all the toys and activities she wants to play with her future sibling. Fun Facts About Gigi - Gigi's first word was "Oli" when she was 5 months old - She attends a school with indoor and outdoor playgrounds, yoga, gym, music, art, and swim classes - She likes to help with the cooking and baking at our house - she is very good at measuring ingredients! - Gigi's favorite animal is a horse - Her favorite songs are "We're on our way to grandpa's farm!" and "Ba Ba Black Sheep!" About Oliver Oliver is our 12 year old lab/shepherd mix. We adopted him from the Humane Society in Florida when he was four months old. Since then, Oliver has been by our side wherever we go. He's lived on two continents, and traveled all over the U.S. and Italy. He is always ready to get in the car and go with us wherever our next destination is! His favorite toys are tennis balls, frisbees, and squeeky toys. Oliver has many friends and enjoys being social. Oliver took to Gigi instantly when we brought her home and the two are inseparable! He is very sweet and gentle with her, letting her hug, pet, kiss, and even crawl on him. Our Passions 1. Service to Others - Peter joined the military to help keep people safe and help others in need - Jessica became a counselor to help families in crisis heal and to help foster love and understanding - We plan to foster the values of respect, dignity, social justice, and the value of all people in our children in part through volunteering and service to others in our community 2. Education - We love learning and believe that education is the door to opportunity and following one's dreams - Providing the next generation with a very strong education is a value we hold and we look forward to giving our family the highest quality education that is best for each child. We have a number of excellent private schools available to us here, and a gifted and talented program in the public schools as well. Gigi currently attends the best preschool in the city, and has many opportunities to learn, among a very diverse group of peers and teachers from many ethnicities, races, and backgrounds. - Whatever their interests and strengths, we will provide each of our children with every educational and learning opportunity available to develop and grow so that they can reach their dreams. For example, Gigi has shown an interest in music and dance in particular, and so in addition to the classes she receives at school, we spend half of our Saturday each week taking her to music class at our local university and dance at our local dance school. 3. Language - We grew up learning different languages, and this helps us meet and learn from people from all over the world, and gain diverse perspectives - Peter speaks English, Japanese, and Italian and Jessica speaks English, Italian, and Spanish - With us, your child will have the opportunity to learn these languages and others as we travel and explore the world together as a family. Gigi has already been to Italy, and knows a number of Italian words and phrases. We read books about different cultures, and try to expose to an understanding of our vast, diverse, wonderful world. 4. Music - Listening to music from many genres, cultures, and traditions fuels our imagination and creativity and helps us express ourselves - We can't wait to sing, dance, and be in shows that your child imagines and creates! 5. Travel - We love learning about new places, cultures, and people and making friends all over the world - We have traveled the world to learn about other people and cultures and gain experience that gives us perspective on our own place in the world - We can't wait to travel across the US and to other countries with our children and watch them learn while exploring their world - At school and at home we listen to every kind of music genre as well as global music from other cultures. At school Gigi has guest musicians and we have taken Gigi to numerous types of concerts and performances. Loved Ones Our family and friends are from all over these days; Texas, Pennsylvania, Massachusetts, Virginia, California, Ireland, and Spain to name a few! We try to make lots of time throughout the year to be with our loved ones because they bring so much joy to our life. For example, Peter's brothers live in CA, but we see them multiple times a year and FaceTime weekly or more. Jess's sister and brother in law live in Ireland and we see them several times a year and FaceTime weekly or more. Gigi calls members of her family to talk almost every night before bed. We have lots of opportunities for grandparents to spend time with Gigi at our house and theirs, and Gigi's cousin who is close in age to her lives in the same state and is often around for celebrations and special occasions. Our children will grow up surrounded by family and friends that love and care for them and make them feel like they are part of a wonderful, diverse, and dynamic family!
Final Thoughts
---
Your gift of adoption is Gods miracle to us and we plan to honor this gift everyday by raising them with love, support, kindness, and compassion.
---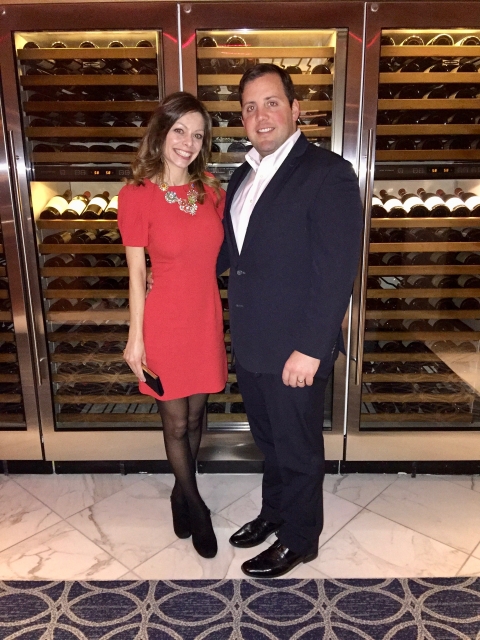 An evening out.
On Parenting Like you, there are so many things we want for our children: For them to learn, travel, and make friends For them to always feel safe, supported, and loved For them to enjoy life and be themselves And in raising them, we feel it's important to: Always make them feel loved, accepted, and secure no matter what Set clear rules and expectations Provide consistent guidance and feedback Model positive behavior and demonstrate examples of patience, love, humility, and hard work in all of life's pursuits Caring For Our Children We have both chosen education, careers, and jobs that allow us the flexibility to be able to be home with our children while they grow. For us, that means coordinating our work schedules so that one of us is home, and also working from home as needed so that we can be present to care for, love, nurture, and watch our children grow. We also have families that are very supportive and have offered to help out however we need help. Finally, we have robust new parent leave programs, so that a new little one or little ones will have our undivided attention. In Closing Your gift of adoption is God's miracle to us and we plan to honor this gift everyday by raising them with love, support, kindness, and compassion. Our child will always know that they were given by their birth mother out of an abundance of love and received by us with hearts that are forever full of gratitude. From the beginning, they will know they are adopted, and we will keep you updated on their growth and development. We plan to incorporate your heritage and culture into our new family traditions so that your child will always be connected to you and their background. As your baby grows, we want you to know that we are also excited and hopeful for your journey and the next chapter of your life, as you take your next steps and go after what will bring you happiness and joy. Thank you once again for this opportunity. We want to leave you with some words on adoption that have touched our hearts and speak to the hope we have for our journey through adoption and into parenthood: When love takes you in, everything changes A miracle starts with the beat of a heart When love takes you home and says you belong here The loneliness ends and a new life begins - Steven Curtis Chapman You are so lovely child My heart, my dreams, my hopes Are all for you -Lindsey Teefey